Sample Women Size Guide
---
Measuring Tips to Assure The Best Fit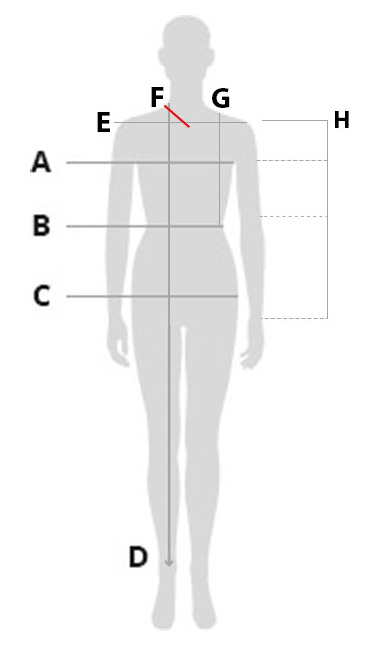 A. Bust
Measure around the bust
B. Waist
Measure around the waist
C. Hips
Measure around the hips
D. Length of the Dress
Measure from top shoulder to the hem that you expect
E. Shoulder
Measure width oh the shoulder
F. V-Neck/Neckline
Measure from top shoulder go down to the neckline that you expect
G. Torso
Measure from top shoulder to the smallest part on the waist from front and from the back
H. Length of Sleeve
Measure from top arm to the end sleeve that you expect
---
Premier Designer And Contemporary Apparel Sizing
| UK Size | Bust | Waist | Hips |
| --- | --- | --- | --- |
| 2 | 33.1 | 25.9 | 35 |
| 4 | 34.6 | 27.6 | 36.6 |
| 6 | 36.2 | 29 | 38.2 |
| 8 | 37.8 | 30.7 | 39.7 |
| 10 | 39.4 | 32.3 | 41.3 |
| 12 | 40.9 | 33.8 | 42.9 |
| 14 | 42.5 | 35.4 | 44.5 |
| 16 | 44 | 37 | 46 |
| 18 | 45.6 | 38.5 | 47.6 |
| 20 | 47.2 | 40.1 | 49.2 |
Natural Linen Midi Dress
$99,00
Style
Sleeveless Midi  Dress , slit up at the sides
Length of the dress: 120 cm (Buyers are able to request for custom length)
Color available: all color based on colors swatches.
How to wear the dress
you can wear the dress directly
Fabric and Care
Linen , 100% natural Linen
Separate white, dark, and colored linens.
For best results, wash separately from other fabrics.
Wash in lukewarm water (<40°C/104°F). Use the gentle machine cycle and don't overload your washing machine.
Use mild detergent formulated for delicate fabrics.
Sizing
We provide standardized measurements in UK, US, EU, AU sizes, you will find the details of our UK sizes on each of the last picture. Please choose according to your own size, or contact us to order according to the size that best fits your requirements. Also, we accept the custom size order.
Shipping
Delivery time worldwide is 4 until 12 working days, Shipping by DHL with the tracking number.
Return and Refund Policy
We accept return and refund for wrong item and defect only, buyer responsible to ship back the item to get refund. Buyer must return back item within 7 days. We can't accept return for custom order, because the item specially made for you. We can't accept return for on sale item. Tax and duty are buyer responsibility. We don't provide shipping label.